FOR IMMEDIATE RELEASE:
All-star sextet of Bay Area jazz musicians pay tribute to the Art Blakey album Ugetsu on its 50th anniversary.
June 14, 2013 – San Jose, CA
June 15, 2013 – Oakland, CA
June 16, 2013 – San Rafael, CA
On June 16, 1963, Art Blakey's sextet, having recently returned from a tour of Japan, played a concert at the world-famous Birdland in New York. The concert was recorded and issued as the album Ugetsu (which means "fantasy" in Japanese). It is one of the finest recordings Blakey ever made, featuring brilliant performances and compositions by the legendary members of the band, which included Wayne Shorter, Cedar Walton and Freddie Hubbard. The recording was produced by legendary producer (and longtime San Francisco resident, now 90 years old) Orrin Keepnews.
To celebrate the fiftieth anniversary of the concert and the album,
six of the Bay Area's most accomplished jazz musicians will be performing the music of Ugetsu—music that is bold, richly textured, and, above all, swinging.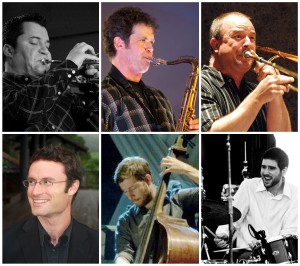 The Ugetsu Project personnel:
Mike Olmos (trumpet)*
Anton Schwartz (tenor sax)
John Gove (trombone)
Adam Shulman (piano)
Mike Bordelon (bass)
Greg Wyser-Pratte (drums)
* Don Beck (trumpet) on June 15
The Three Performances:
June 14, Friday, 7-9pm
San Jose Jazz: "Music at the Market"
Free admission. All ages welcome.
San Pedro Square Market
87 North San Pedro Street, San Jose
More info: SanJoseJazz.org
June 15, Saturday, 8pm
The Sound Room, Oakland
2147 Broadway, Oakland CA 94612
$15 advance, $20 at the door.
All ages welcome.
Reservations & Info: SoundRoom.org
June 16, Sunday, 6:30pm
Fenix, San Rafael
919 Fourth Street, San Rafael, CA 94901
Ticket Price $15. All ages welcome.
Free parking in public garage at rear of building.
Two drink minimum for non-diners.
Reservations & Info: www.FenixLive.com
About the Musicians
Mike Olmos (trumpet) is one of the most in-demand players on the San Francisco jazz scene. He has performed at jazz festivals around the country and the world, including the Monterey Jazz Festival, New Orleans Jazz Festival, Playboy Jazz Festival, Montreal Jazz Festival, the Stuttgart Jazz Open and Día de San Juan. His performing & recording credits span a huge gamut, including: Etta James, Rosemary Clooney, Beck, Roy Ayers, Seal, Pete Escovedo, The Cab Calloway Orchestra, Marcus Shelby, Lavay Smith, Cachao, Lyrics Born, Zion-I, Jazz Mafia, Meshelle Ndegeocello, Taj Mahal, Michael Feinstein and Michael Brecker.
Anton Schwartz (tenor sax). "Saxophonist Anton Schwartz is a guiding light of both the Bay Area and national jazz scenes," writes the San Francisco Jazz Festival. Currently a resident of Seattle, Schwartz has performed at prestigious venues across the nation, offering what the SF Chronicle described as his "warm, generous tone, impeccably developed solos and infectious performance energy." His four CDs as a leader have earned sterling reviews and prodigious airplay, with his most recent CD, Radiant Blue, hitting number four on the national jazz radio charts.
John Gove (trombone), Director of Jazz Studies at Laney College, has performed and/or recorded as a trombonist with Diana Krall, Dr. John, Terence Blanchard, the Mingus Dynasty, Maria Schneider, Tony Bennett, Peter Gabriel, Huey Lewis, Barbara Streisand and Smashmouth. His arrangements have been commissioned and performed by such artists as the Count Basie Orchestra and the SFJAZZ All Stars.
Adam Shulman (piano) has been a staple of the San Francisco jazz scene since he moved to the city in 2002. Shulman has performed with internationally renowned artists such as Stefon Harris, Willie Jones III, Miguel Zenon, Luciana Souza, Paula West, Ratzo Harris, Bobby Hutcherson, Larry Coryell, and the Glen Miller Orchestra… as well as the most talented musicians on the Bay Area scene. His main influences include Bill Evans, Barry Harris, Sonny Clark, Tommy Flanagan, Wynton Kelly, Hank Jones and Herbie Hancock.
Mike Bordelon (bass) has shared the stage with many notable jazz musicians including Arturo Sandoval, Duffy Jackson, and Wayne Bergeron. He has performed at Carnegie Hall with the Rodolfo Zuniga group and various international festivals with the grammy nominated Negroni's trio. Now living in San Francisco, Mike can frequently be heard playing with the enormously talented musicians of the Bay Area.
Greg Wyser-Pratte (drums) honed his skills in Chicago, where he performed with the area's top artists, including Von Freeman, Ron Perrillo, Dan Trudell, Bobby Broom, and Ira Sullivan. In 2010 he relocated to San Francisco and quickly became one of the most requested drummers. In addition to his live performances, Greg is in high demand in the studio, and has received critical acclaim for his performances on over twenty albums. His most recent appearance is on "Places" by Christian Tamburr, featuring pianist Eric Reed.
On Facebook
• The official facebook event.
Photos for Download
• high-resolution photo of the band: UgetsuSextet.jpg
• image of the original Ugetsu album: UgetsuAlbum.jpg
More Information
Contact Anton Schwartz – 510 654-3221 or antonjazz.com/contact
or Adam Shulman – 415 203-3451 or shulmanadam@hotmail.com