DownBeat Magazine — March, 2014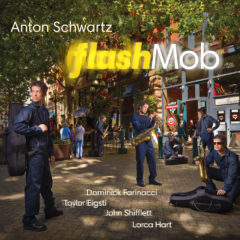 Anton Schwartz
Flash Mob
ANTONJAZZ 1005
★★★★
No matter how sophisticated his writing or wide-ranging his solos, Bay Area tenor saxophonist and composer Anton Schwartz never strays far from the verities of hard-bop blues and roots on his fifth album, Flash Mob. Even his quintet's cover of Thelonious Monk's "Epistrophy" rides on a second-line rhythm. "Swamp Thang," meanwhile, is the sweetest, fastest medium-tempo boogaloo you'd want to hear this side of "Watermelon Man."
The opening, title track at first sounds like a typical minor-mode hard-bop flagwaver. But pianist Taylor Eigsti accelerates his solo to a furious tempo with bassist John Shifflett and drummer Lorca Hart weaving a dense pattern of counter rhythms alongside him. Eigsti lays down a beautiful variety of patterns before Schwartz's solo takes things down for more spare ruminations.
Schwartz also knows how to leave space in his songs. "Cumulonimbus" changes shapes by alternating a rubato theme with a driving 3/4 bridge, and offers a short, rhapsodic unaccompanied passage from Eigsti. On the slow blues "Alleybird," trumpeter Dominick Farinacci takes the first solo with just bass accompaniment before Eigsti joins in and the piece assumes a gospel fervor.
Just about all of these songs have the kind of shapely themes you can imagine other players wanting to cover. In fact, Schwartz's tempo-shifting "Spurious Causes" is a good match for "La Mesha," the Kenny Dorham ballad that follows it. There are other pleasures, such as the complementary styles of Schwartz and Farinacci, the former ardent and gritty, the latter dark-hued and lyrical. But for everybody here, the tune's the thing. Which is another good lesson from hard-bop.
— Jon Garelick
▶ Printable Version [PDF]