Earshot Jazz — March 2014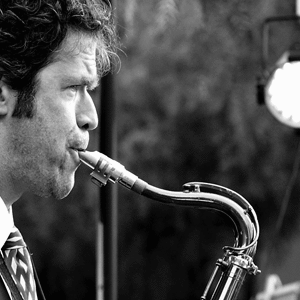 March 2014
Vol. 30, No. 03
Anton Schwartz: Toward Reward
By Steve Griggs
"A beautiful musical moment is its own reward, and won't be obviated or disproved the next day," wrote saxophonist Anton Schwartz in his high school alumni magazine. "Musical performance, unlike scholarship, has an immediacy that I find hugely satisfying."
Schwartz was explaining his career transition from researcher of artificial intelligence to full-time musician. Although Schwartz had studied and performed music from an early age, he graduated magna cum laude from Harvard with a B.A. in mathematics and philosophy. He pursued doctoral research at Stanford. He was at the top of his academic game.
Then chronic fatigue syndrome struck. Schwartz caught a cold that knocked him out for a year and a half. He barely had energy to climb a flight of stairs. His life ground to a halt.
As the weeks rolled by with no improvement, he decided to get used to it. In this valley, his earlier love of music found a quiet space to bloom. He had never regretted time spent practicing, so that's what he did. Sometimes things fell into place. Other days he "couldn't play a decent note if it fell on me." Slowly, gigs began to replace academics. "My family freaked out until they realized I put into music what I put into academia. In fact, I put more in and get more out."
Schwartz was born in New York City, started on clarinet and switched to saxophone at age 14. He liked the sounds of Joe Henderson, Dexter Gordon, John Coltrane, Stanley Turrentine, and Wayne Shorter. Riding a bus down the West Side one day, he spotted a rider with a saxophone case. Curious, Schwartz struck up a conversation and learned that the saxophonist was returning from a lesson with Warne Marsh. By coincidence, Schwartz had recently picked up an album at Bleeker Bob's Golden Oldies for $1.00 that featured saxophonists Warne Marsh and Pete Christlieb. "I couldn't even tell the difference between them."
Marsh, from Los Angeles, was a disciple of pianist Lenny Tristano. Despite appearing on more than 200 recordings, Marsh's audience was small, along with his finances. Schwartz visited Marsh's tiny studio apartment in the Bretton Hotel weekly to learn tunes on saxophone and piano. "Warne's whole existence was pure," he says. "He was so pensive and took his time answering questions. It was magical when Warne picked up the horn or sat at the piano."
When Marsh moved back to Los Angeles, Schwartz studied with Eddie Daniels. "Eddie is a New Yorker. He's fast paced. He's an incredible technician and always took care of business. I would show up before my lesson and could hear the student before me struggle. When I started my lesson, Eddie would say, 'Did you hear that guy before you. Let me tell you why he's better than you.'"
During high school, Schwartz formed a band with guitarist Peter Bernstein and keyboardist Larry Goldings who went on to music careers. In college, Schwartz took over the seat vacated by Don Braden in the Harvard Jazz Band. In Schwartz's second year, Joshua Redman joined the saxophone section. In addition to learning from his peers, Schwartz gleaned wisdom from guest artists that director Tom Everett brought in — Benny Carter, Joe Henderson, Carla Bley, Lester Bowie, and Illinois Jacquet.
After school, after academic research, after illness, after returning to music, Schwartz began recording his compositions on his own label. When Music Calls came out in 1998, The Slow Lane in 2000, Holiday Time in 2004, Radiant Blue in 2006 and this year, Flash Mob.
For Flash Mob, Schwartz assembled Grammy Award-nominated pianist Taylor Eigsti, Juilliard-graduate trumpeter Dominick Farinacci, Bay Area drummer Lorca Hart, and longtime collaborator bassist John Shifflett. Like the title suggests, the music is imbued with spontaneity, precision, and fun. Schwartz's thick tenor tone pairs warmly with Farinacci's dark brass. Melodic clarity trumps technical fireworks. Wide grooves set a jubilant vibe.
Seattle audiences get to join Schwartz's Flash Mob at Jazz Alley in Seattle on March 11 and 12 during a West Coast CD release tour.